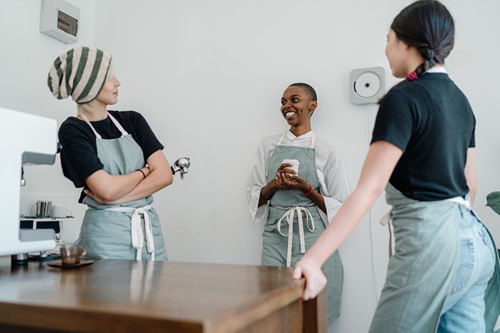 Photo by Ketut Subiyanto from Pexels

2020 threw a wrench in our get-togethers, cocktail parties, extended-family game nights and plans of every category. But designing a new home in times of pandemic, be they post or during, shouldn't mean opting out of the features you'll need to entertain a crowd once COVID-19 is over. Making a few thoughtful choices in your custom home's design can make all the difference in your success as a host in the next several years. These features will ensure you're ready to host a crowd as soon as it's safe to do so.
Large Kitchen and Dining Areas
The kitchen and dining space are the heart of the life of your home. When designing your new home, these are the spaces you'll want to pull out all the stops.
No matter what type of gatherings you host, you'll thank yourself for a little extra kitchen space or that lovely island you weren't sure was necessary. If you love to cook, features like double wall ovens and double dishwashers might be worth the investment. For smaller homes, plan for flexible seating options and multi-use spaces that allow you to reconfigure as necessary to provide seating for all your guests.
Easily Accessible Outdoor Spaces
Swap the French door for a custom sliding wall, and you'll have a multipurpose space that seamlessly connects with the outdoors. There is nothing like being able to step outside directly from the dining area to enjoy a cup of coffee in the morning, or to circulate with guests outdoors before or after a dinner party.
The type of outdoor space you choose will vary widely according to your preferences, of course. For some, a wet bar and outdoor fridge is the ultimate outdoor escape; for others, a large in-ground hot tub and spa-like garden surroundings are higher-priority.
Smart Home Tech
There's a reason smart home technology is lighting up the design world right now: it legitimately makes life easier—especially for large families or those who entertain regularly. Splurging on an integrated sound system throughout your family areas and outdoor living spaces might seem like an exorbitant expense, but it's amazing how effectively that step can set the mood and create continuity between different areas of your home.
Automated systems you control by a hub in the kitchen or your smartphone make it easier than ever to adjust the patio lights, open the sliding door connecting your living space to your deck or turn the music down when everyone takes their seat to enjoy a meal. These systems also make it easier to adjust your thermostat efficiently to accommodate larger groups of people.
Other Features Worth Considering
Interior mood lighting. Opt out of larger overhead lights for entertaining and turn on the lamps, sconces and niche lights instead.

A master retreat, perhaps featuring a sitting area where you'll have room for a tranquil retreat when you need a breather.

A game room, featuring a billiard table, poker table or other game features of your choice.

A cozy, well-appointed, in-home theater.

If you have kids and many of your get-togethers feature the younger set, a playroom or space where the kids can let loose.